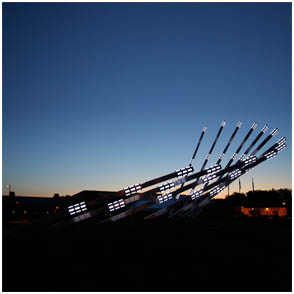 Infos Artwork
Year: 2008
Place: Waterloo Regional Operations Centre in Cambridge, Canada
Land: Canada (43.3600536,-80.3123023) centr.
Category: Participation/ Social issues/ Politics and Sun/ Light
Tags:
The solar collector consists of twelve aluminum shafts with different degrees of inclination on a covered lawn mound. The inclination of the waves depends on their position in relation to the sun. Thanks to photovoltaic technology, the energy absorbed during the day is used for nighttime performance.
On the Solar Collector website, members of the community create various light compositions throughout the day that are played. The overall length of the performance reflects the weather and the seasons, as the shafts use up their energy and wear off one after the other in the late evening.