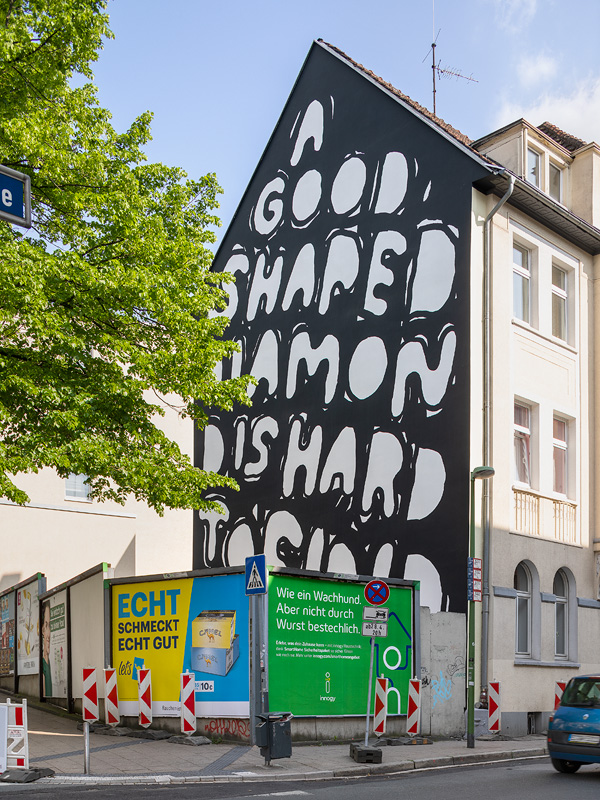 Infos zum Kunstwerk
Jahr: 2019
Ort: Ruhrgebiet
Land: Germany (51.51751795,7.14391820171324) centr.
Kategorie: Erde/ Boden, Ökonomie, Partizipation/ Soziales/ Politik, and Ressourcen/ Energie/ Atom/ Fossil
Tags:
A GOOD-SHAPED DIAMOND IS HARD TO FIND ist Teil eines Triptychons aus drei schwarz-weißen Wandmalereien des Berliner Künstlers Stefan Marx in Bochum, Dortmund und Essen. Die Arbeiten entstanden 2019 im Rahmen der Ausstellung Ruhr Ding: Territorien von Urbane Künste Ruhr und kommentieren über unterschiedliche Satzfragmente und Zitate Vergangenheit, Gegenwart und Zukunft des vom Bergbau geprägten Ruhrgebiets.
"Während die Wand in Bochum ein letztes Adieu an die Bergbaugeschichte der Region darstellt, wird in Dortmund die Vergangenheit hinter sich gelassen und die neoliberale Arbeitsgesellschaft kommentiert, die das Leben in der Gegenwart nach wie vor prägt. Mit dem Soundtrack Woody Guthries ehrt die Wand in Essen den Alltag des kleinen Mannes und seine Suche nach einer besseren Zukunft." (Leonie Böhmer) >>
Quelle: Böhmer, Leonie: Stefan Marx – A good-shaped Diamond is hard to find. In: Urbane Künste Ruhr (Hg.). Ruhr Ding: Territorien Guide 4.5.-30.6.2019. Passau: Passavia, 2019. PDF. S. 95-96. <https://www.urbanekuensteruhr.de/jobs/UKR-2019-GUIDE_WEB.pdf> (12.06.2019)