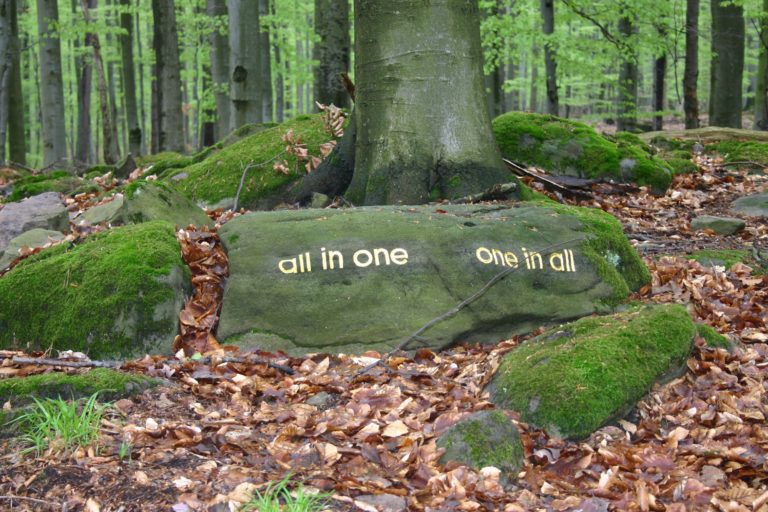 Infos zum Kunstwerk
Jahr: 2005
Ort: Steigerwald
Land: Germany (49.7569007,10.584544977258414) centr.
Kategorie: Ökosysteme /Flora/ Fauna und Partizipation/ Soziales/ Politik
Tags:
"herman de vries bezeichnet das 10.000 Hektar große Laubwaldgebiet des nördlichen Steigerwaldes als sein "atelier". Hier findet er Anregungen und Materialen für sein künstlerisches Schaffen. Mit dem 2005 begonnenen Projekt "spuren" hat er in seinem Waldatelier Zeichen hinterlassen, goldene Inschriften, Symbole, Punkte. 13 sogenannte Raumpunkte und 26 Inschriften sind es inzwischen. Weitere sind geplant. Die Inschriften bedürfen keiner Interpretation. Sie sprechen für sich, zu dem Betrachter, dem Wanderer, der sie meist zufällig findet. Mehrmals im Jahr werden geführte Spurenwanderungen angeboten." (Ulrich Mergner)
Quelle: Mergner, Ulrich: Der Steigerwald als "Atelier": "chance and change". In: Fotini Mavromati, Julia Wallner (Hg.): herman de vries. how green is the grass? Berlin: Georg Kolbe-Museum, Umweltbundesamt, 2020. PDF. S. 36-39.