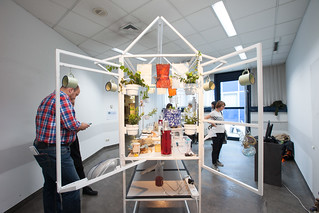 Infos Artwork
Year: 2020
Place: Singapur
Land: Singapore (1.2749008,103.8043085) centr.
Category: Participation/ Social issues/ Politics, Pollution/ Destruction/ Toxins, Resources/ Energy/ Renewable, and Waste/ Recycling/ Upcyling
Tags:
With this innovative method, the 7-member women's team XXlab wants to combat the water pollution caused by soy production in Indonesia. Organic leather, biofuels and edible cellulose are made from the wastewater from the tofu factories. The machinery could be inexpensively replicated in any home kitchen and thus also offers an option for sustainable economy.